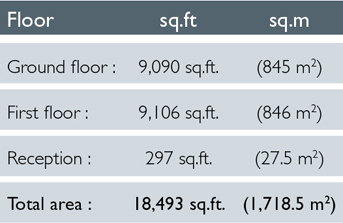 Measurements are on a Net Internal Area basis.
Abbey Groves stands on the site of the former fruit groves of Chertsey Abbey. The Abbey, a Benedictine monastery founded in 666 AD, met its demise during the reign of Henry VIII. In 1440 Chertsey was granted a warrant to hold the Black Cherry Fair. It is still held annually to this day. The black cherries became famous throughout Europe.
Abbey Groves provides 9,090 - 18,493 sq.ft. of self-contained office space, fully refurbished and set within a secure gated site.
The office space is accessed via a full height glass entrance foyer with two open plan footplates.
All rights reserved. 2019
Richard Cook Ltd. 26 Windsor Street, Chertsey, KT16 8AS.